Ok, seems like a month or two since I posted..... well, thats the school holidays I guess! so, news......
the "Pay it forward" guitar is gone. there was a teen aged girl from Cork who was at Summer Madness and she had a voice like an angel and played really well, and needed a guitar......
it was a God thing, y'know?
Anyway, now that I'm back to work, I'm back to building too!!
I have a Mandonaught on Ebay at the moment and some one saw it and asked how I felt about building a Mandolanaught........ 18" scale, tuned to CGDA (in pairs like a mando). I'm game said I, so Kevin have been exchanging emails like mad mulling over Ideas.........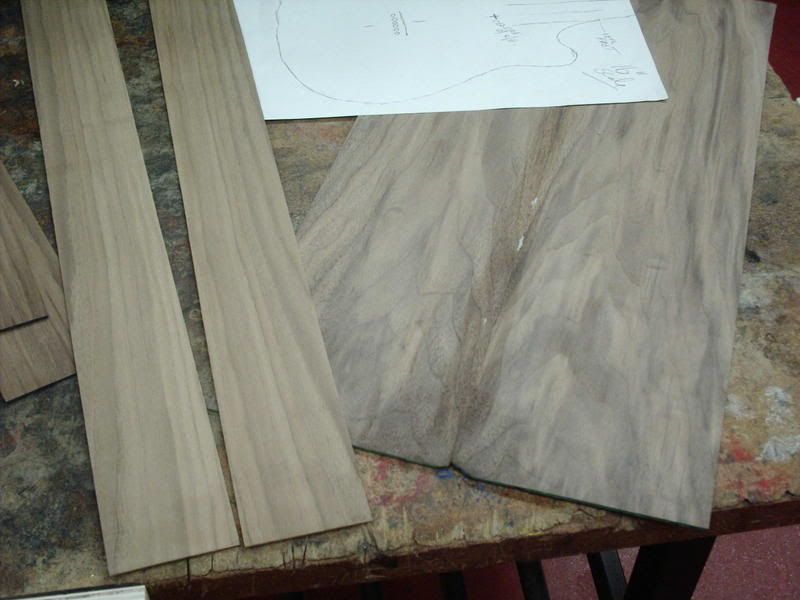 I'm hooked, so I'm going to build one, and even if Kevin decides not to go ahead with it in the end, I'll make it anyway!!!
I'm a sucker for a challenge!! Ok, so wood first....... Kevin has a bunch of other instruments and they're all walnut, which happens to be my favourite wood for backs & sides, so all is well there then!!
Here's the back & sides so far.....
body shape is closely based on the guitar that Kevin already has. I've reduced it to the required 18" scale length to get the body shape. 10" across the widest point and a hair over 13" from 12th fret neck join to heel.
the top will be sitka spruce. I have a few pieces so I'll use the bearclawyest one...... Neck is to be walnut, fretboard Mascassar Ebony (a chance to try a new wood supplier there then!!) binding maple. soundhole is under negotiation. Kevin's other guitar has an oval hole and I've never done one of those with a rosette. I need to investigate how to do it and see if I'm up to it. I'd rather do a GOOD round one than make a mess of an oval.........
Tuners will be individuals rather than 4 on a plate and the headstock will be similar to Kevin's other instruments. the bridge will be pinned like a guitar rather than a floating bridge with a tailpiece. Bone nut & saddle.
I picked up some MDF on my way home today for the body mould. I'll need to confirm the neck dimensions with Kevin before I go much farther.
Other stuff going on?
Well there is the cherry mando that I need to get a fretboard for before I start on making a neck and there is an acoustic doubleneck in the pipeline too.........